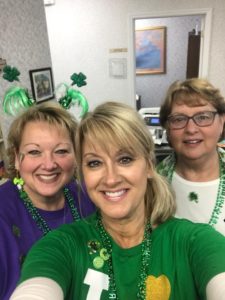 Happy spring everyone! This year is already flying by and we can hardly believe it's almost the end of March. We wanted to take a few moments and give a little spring hello to all our wonderful patients.
Whether you're Irish or not, we hope you had a fun St. Patrick's Day celebrating with friends and family. No matter what holiday it is, we always appreciate the chance to bring all of our loved ones together for a good meal. Our office had fun dressing up in all shades of green and we're happy to report that no one got pinched!
Dr. Evan enjoys being able to do what he loves every day, and we owe it all to our wonderful patients! It makes us smile to see how well our patients take care of their teeth! If we had any advice to give to keep those teeth healthy, it would be to stay away from sticky candy, soft drinks, and energy drinks. While these items are fine as treats every once in awhile, all that sugar is harmful to your oral health and can cause cavities. That's why a healthy diet, brushing twice a day, and flossing regularly is essential for good dental hygiene. You only get one set of teeth after all!
As spring continues to unfold, we are really looking forward to warmer weather and seeing nature come back to life. There is just something about fresh green grass and blooming flowers that makes the heart happy.
We hope you have had a wonderful March and enjoy all the sunshine to come. Let us know what you're most excited for this spring next time you're in the office!